When I started shopping for all of the things my newborn would need, it was somewhat overwhelming. There are so many brands to shop from, and half of the items I purchased I felt like I didn't even use. Now when my friends find out that they are going to become a mother they usually contact me to find out what they really need and what can be left at the store. This has lead me to this series of posts which I have dubbed "Necessities for Your New Baby". Well let's get started with something every baby will need, a crib.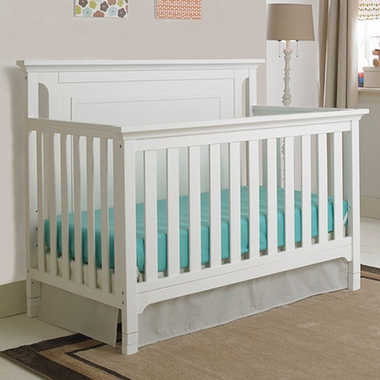 I checked stores from Babies "R" Us to Pottery Barn to find a crib. I found a white one at Pottery Barn I really liked but felt like I could find a comparable one elsewhere for a much better price. After looking at several online stores I came across SimplyBabyFurniture.com. This site was great because they carry over 30 brands of children's furniture so there was a wide variety of cribs to choose from. Their prices are very competitive and everything ships free. You also don't have to pay sales (unless you live in California). Since I already had an idea of what I was looking for I narrowed my search down and found a white crib for less than $300! The exact crib I purchased can be found here Ti Amo Carino Convertible Crib. To give you an idea on how great their prices are, the same crib can be found on Amazon right now for over $700. I purchased this crib because it can be converted into a toddler bed and then into a twin size bed with a conversion kit. I wanted McKenna to be able to grow with the bed as she got older. There are many cribs to choose from, so do your research and buy the one that is right for you and your new baby's needs.
Subscribe to my Blog so you don't miss the next "Necessities for Your New Baby" post. Thanks for reading!