Top of the morning to you! I hope everyone had a great weekend! McKenna and I spent the whole weekend together so we could have some mommy/daughter time. We have been traveling a lot so it was nice to be able to stay in Dallas, and enjoy the St. Patrick's Day celebrations on Saturday.
In Dallas, TX, St. Patrick's Day is a huge event with a parade and multiple block parties. Even though St. Patrick's Day is not until Friday, they always have the parade the weekend before. Since McKenna has already experienced a true New Orleans Mardi Gras, I figured going to the St. Patrick's Day festivities on Lower Greenville would be a cakewalk.
One of my girlfriends and her daughter, who is also two, joined us Saturday morning so we could get an early start to make the parade in time. After the parade we met up with friends at a party on the route. It was pretty much impossible to get an Uber, and we didn't want to lug carseats around, so we decided to push the girls in a double stroller and walk to the event. Well the walk was 2.8 miles which doesn't seem that far, but when you are pushing two toddlers up hill, it is not so easy. Luckily the weather was beautiful, and the girls had a great time being pushed. The walk took us an hour with a few pit stops on the way, and although towards the end it got a little tough, I was very happy we walked. Plus I got my "workout' in for the day.
The girls enjoyed the parade and all of the people watching. McKenna was dressed all in white, with her green shamrock headband. Go figure, she ended up dumping food and drink all over herself and sitting in mud. Altogether it was a fun experience and I look forward to taking her again next year, I will just make sure to pack her an extra change of clothes. 🙂
I love our shamrock headbands and the best part was they only cost $1.50 from our local Big Lots. I figured that there was no need to spend a fortune on something you only get to wear once a year. P.S. – McKenna's outfit is currently on sale for an extra 40% off right now. Happy St. Patrick's Day!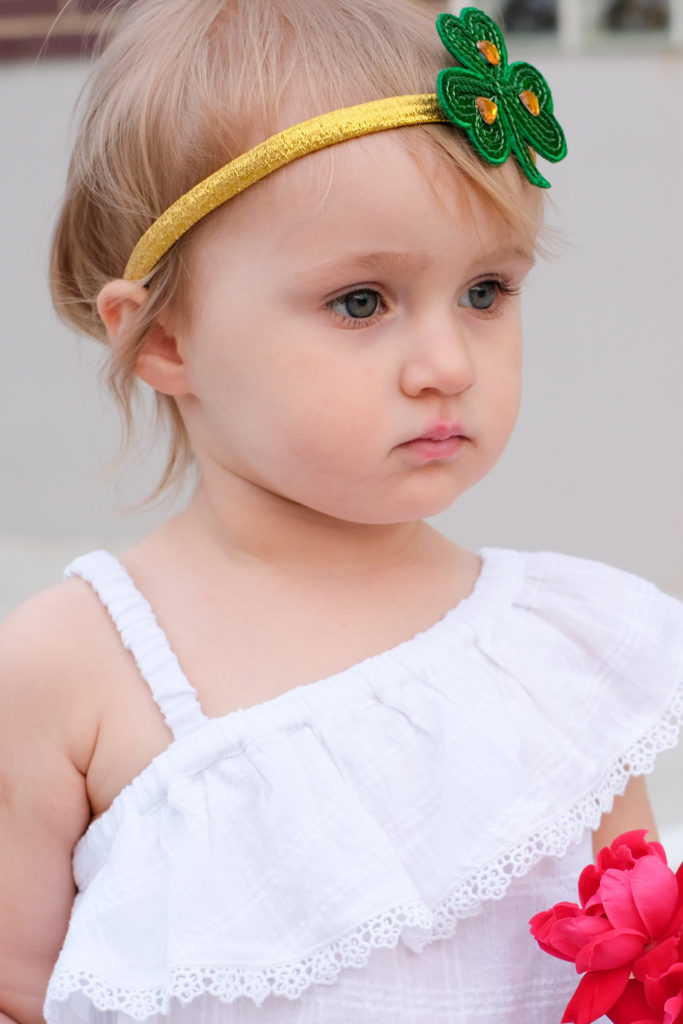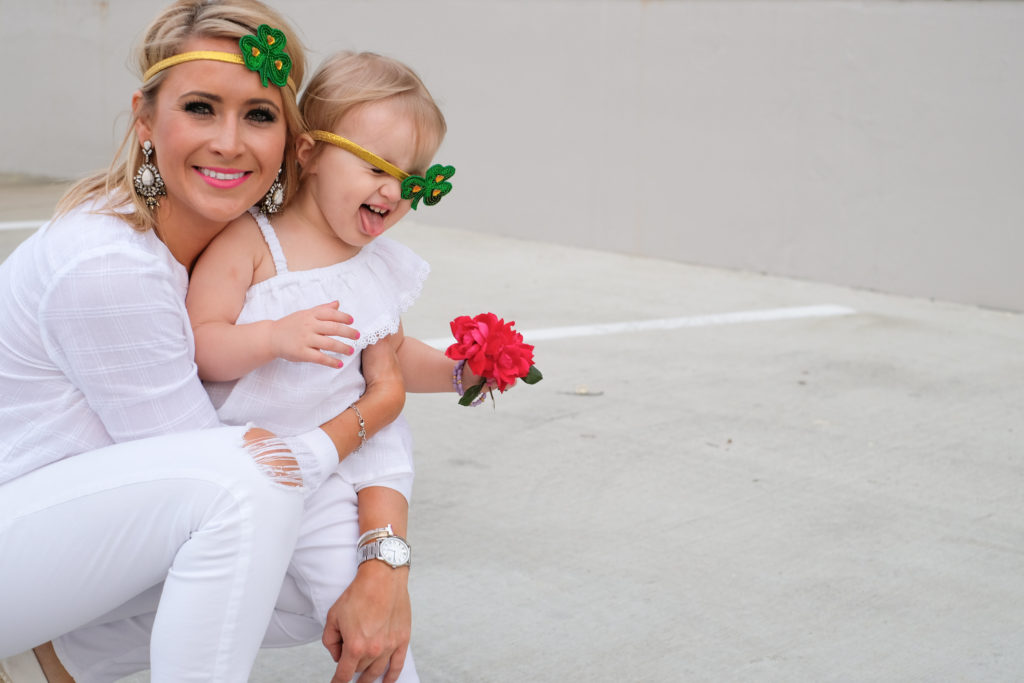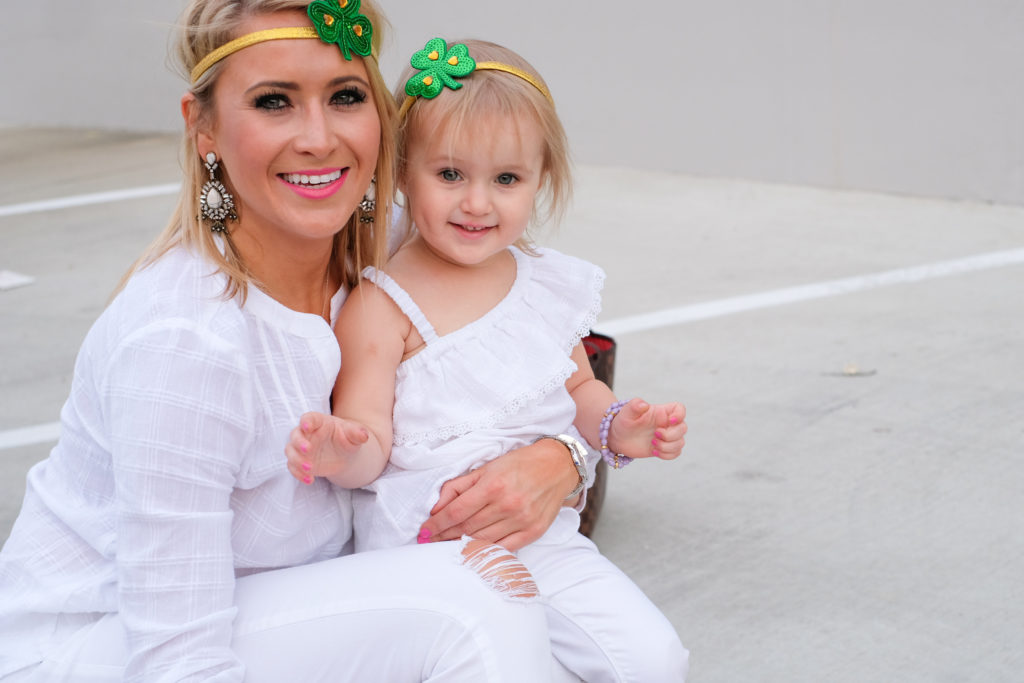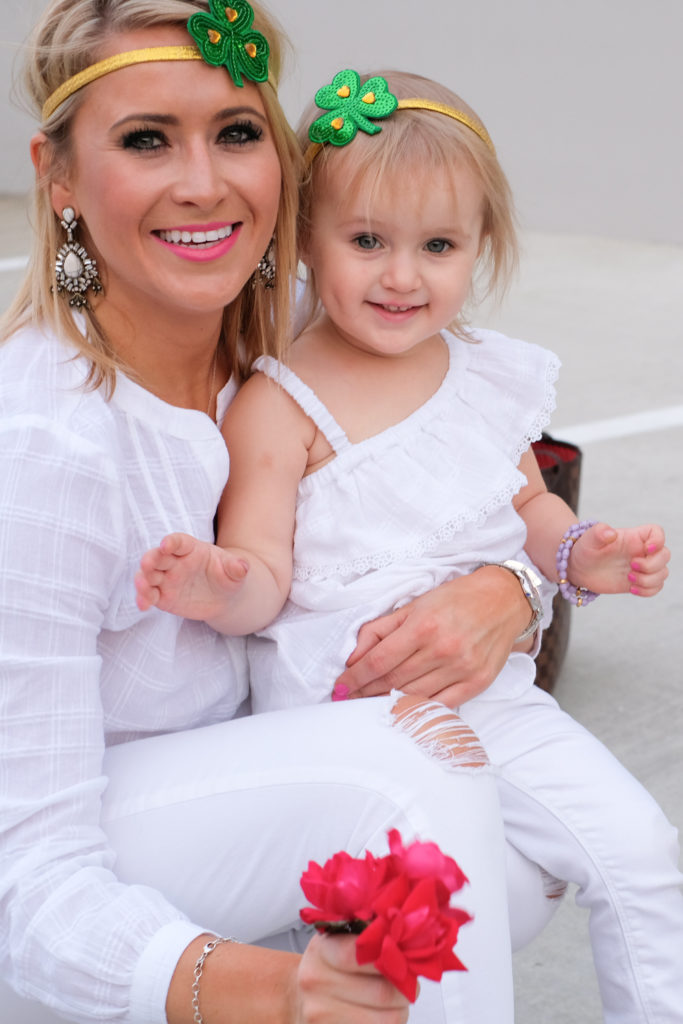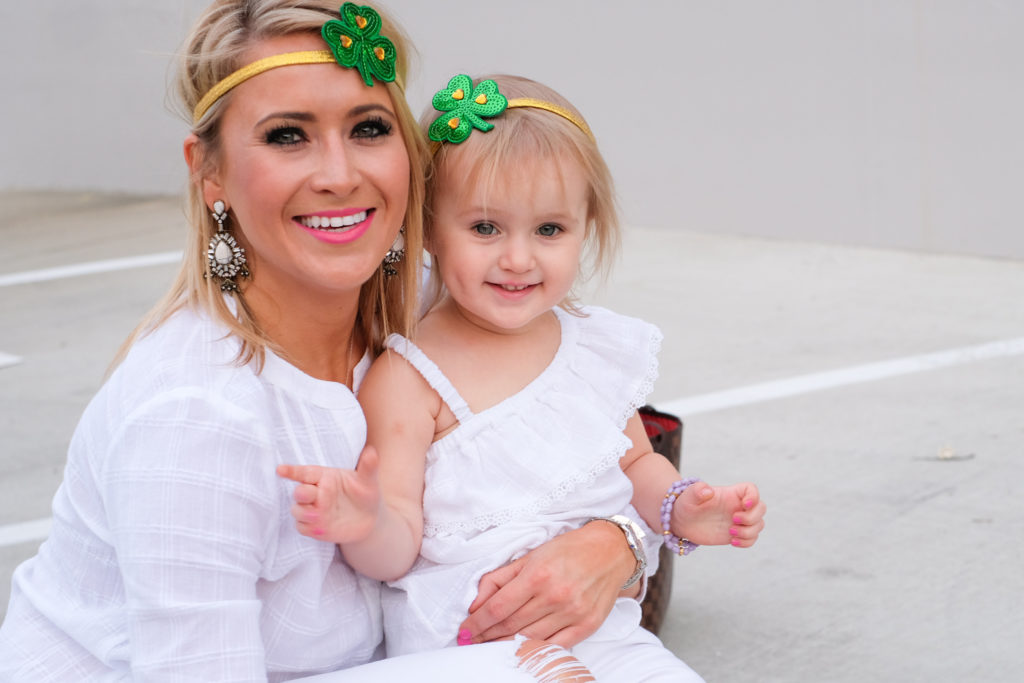 What I'm Wearing:
White Top (size xs)
White Ripped Jeans 
White Statement Earrings (similar style)
What McKenna is Wearing:
White Top
White Skinny Jeans
Photography by Luisa's Secret
[show_lookbook_widget id="347219″]