This shop has been compensated by Collective Bias, INC. and The Coca-Cola Company, all opinions are mine alone. #ServeWithACoke #CollectiveBias
Who loves a good a date night? I know I do, but I also know that date night can be expensive. Between paying for a sitter and a dinner plus whatever activity we may decide to do, the costs can add up very quickly. Even though I don't normally pay for date night, I still feel like that money can be spent better in other ways. However, it is still important to have alone time to connect with your significant. With that being said, I have decided to come up with some ideas for a low key date night at home. I figured since my boyfriend always treats me for date night, I will treat him this time.
Now first things first, if you are going to have date night you are going to need food and beverages. My boyfriend is a lover of pizza and can actually eat a large pizza by himself. When I found out that Dollar General had a frozen Tombstone Pizza and 1.25 liter Coca-Cola™ special for less than $5, I knew that would be perfect for our date night. I mean less than $5 for a meal is a heck of a deal. In order to get the deal you need to sign up for Dollar General's Coupon Loyalty Program, which is a great program that provides digital coupons for a wide variety of in store items. Once you sign up, add the $1 off digital coupon to your saved coupons, and present your rewards number or telephone number associated with the account at checkout. I went to my local Dollar General and did just that. I picked up a frozen Tombstone Pepperoni Pizza and 1.25 liters of Coca-Cola and Diet Coke®. Since my boyfriend really enjoys Diet Coke, I purchased it for him. I on the other hand have always been a Coca-Cola Classic kind of girl, so I got one of those for me. Since Tombstone Pizza and Coca-Cola products go great together, we both enjoyed our Dollar General Easy Meal.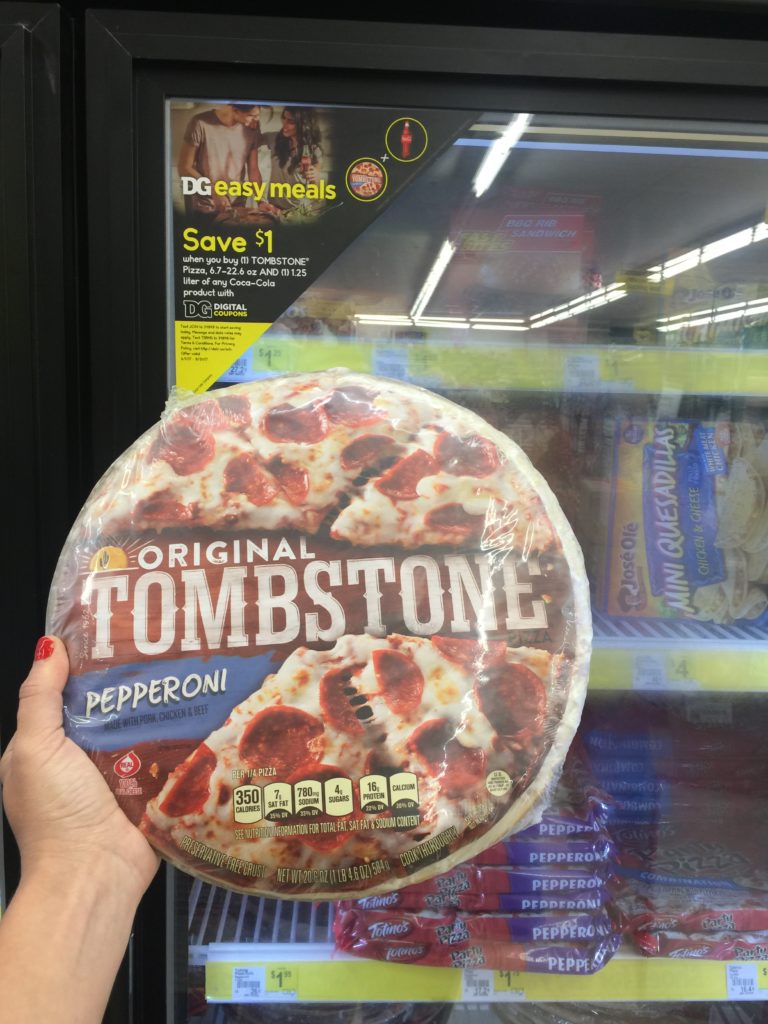 Now that we have food and drink covered, we need some entertainment. Here are a few things that would be fun to do in the comfort of your own home.
Movie – Like most people I love a good movie. There are so many great ones available that this would be the perfect time to see one with your significant other. With modern cable you can rent a movie from your cable box, look at the latest releases if you have a video streaming service, or just go old school and flip through the channels until you find something that you both can agree on.
Cards – Yes, I love playing card games and I feel like I don't play them nearly enough. Playing cards requires your full attention, so you are actually living in the moment. It is nice to have a little friendly competition with your significant other. Since "Go Fish" is the only card game I can remember the rules to, it is also a time that my boyfriend can be the teacher. I know I need to brush up on my card game arsenal.
Video Games – Okay, so playing video games may not be for everyone because either you hate video games, or you don't have a console. A lot of guys, and even girls like video games. I am not a huge fan of regular video games where you sit stationary the whole time, but I do love ones that have the games and remotes that require you to get up and move around. If you ever have a chance play the fake air guitar, then you know how addicting that game can be.
How do you and your partner do date night on a budget? I would love to hear your ideas of fun things you do with your significant other at home. Don't forget to sign up for Dollar General's Loyalty Program so you can start saving time and money with Dollar General Easy Meals. You can find the $1 off digital coupon when you buy a Tombstone Pizza and 1.25L Coke Product here.